Welcome to the Exodus Exterminating Blog!
Providing Answers from our Technical Experts to some of the most common Questions and Concerns we are receiving via customer calls, and email contact-us submissions
Customer Kudos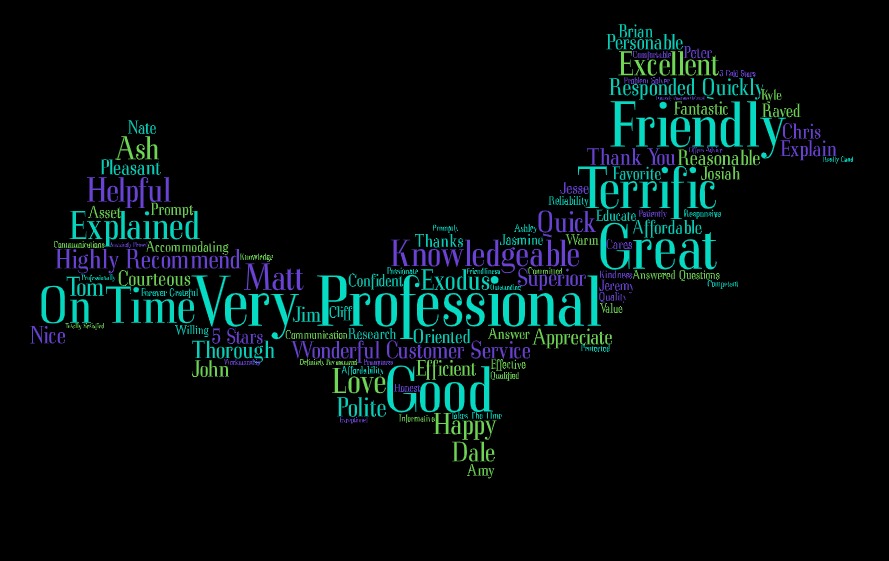 Our Customers speak so highly of us!
The graphic Above is a list of all the key words our customers are saying about us!! The bigger the word the more our customers recognize those traits in the work we provide for them!
We want to share some of the Great feed back we received over the last month and give a special thanks to our wonderful staff!
---



"Professionalism, response time and they do what they say they're going to do."
Doug S.
"Chris is a very personable individual. If you have questions, he will answer them to the best of his ability and if not, he will research your questions and have an answer for you the next time he sees you. He does a good job in getting rid of pests that don't belong here and continues to follow up in each area of the buildings where needed. Very thorough."
AGO Church

"The person who came to my home was professional, and did a fantastic job. He even vacuumed up the dead insects when I was told by the dispatcher that I would have to take care of that myself."
Karen R.
"I like my exterminator. He's very knowledgeable and takes the time to educate me. It's more than just bugs."
Marysue R.

"I appreciate the regularity of your services. Your technician is always on time and willing to do the best service."
Josette G.
"I like that Exodus is thorough, that they anticipate what my needs will be. Exodus employees have been friendly, professional, on time, great communicators, and take every precaution for my property and my safety."
Mark and Pamela T.

"Exodus is a very professional and accommodating company. Your prices are reasonable and the Pest Express plan is an affordable option for "pest" maintenance. I've been using your services for several years at a couple properties. The customer service is excellent; the technicians are great, friendly and knowledgeable (Tom M. is a one of my favorite techs and Jeremy K. is good too). I also very much appreciate that you accommodate my "special requests" for scheduling and calling to let me know if service will be in morning or afternoon so I can plan my own schedule. Thanks Exodus!"
Laurie F.

"People on the phone are always courteous, Josiah is great, friendly, and courteous."
Lorena B.
---
‹ Back